Daycare at the Glebe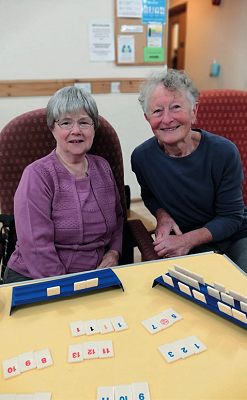 Volunteers for the Daycare service at the Glebe Field Centre have been giving us their time for a while now. While one has been with us for 10 years and another for three, our latest joined us just four months ago. Each of them brings different skills and always plenty of enthusiasm. From making tea to serving lunch, assisting with games and
past times, and engaging with those who for one reason or another are unable to join in, there's the opportunity to make a valuable contribution to the service Daycare offers.
Behind the scenes we have a volunteer who – whatever the weather – puts up event posters around the village and then takes them down again, and even helps us with the annual well dressing event.
We make use of two of our local entertainers, who provide us with a singalong every now and again. And, of course, our local vicar and pastor provide a different kind of 'soul' music. We also have to mention the staff and brave volunteers who gave up a Friday evening and overcame nerves to strut their stuff on the catwalk as fashion models to raise funds for us. Thanks to all our volunteers, front of house and behind the scenes, for your smiles, friendship, assistance and, most of all, for your time. Without you, our jobs would be much harder. You are all much appreciated.
Currently, we'd be grateful to accept voluntary help with the gardening and painting of the Glebe Field Centre itself.
To find out more about volunteering for Daycare, call 01773 857894.