The community art sharing weekend is finally here!
On Saturday 10th October (12 - 5pm) and Sunday 11th October (10.30 - 5.00) there will be the first ever Community Art Sharing at the Glebe Field Centre.
The Art Sharing features pieces of work from 26 children, young people and adults from the Crich Area community. The art work is is a range of art-forms and genres from willow sculpture to felting and from acrylic paint on canvas to photography. There is even a song as part of the sharing, Kindly submitted by Martyn Offord who wrote poetry, song and blog during lockdown.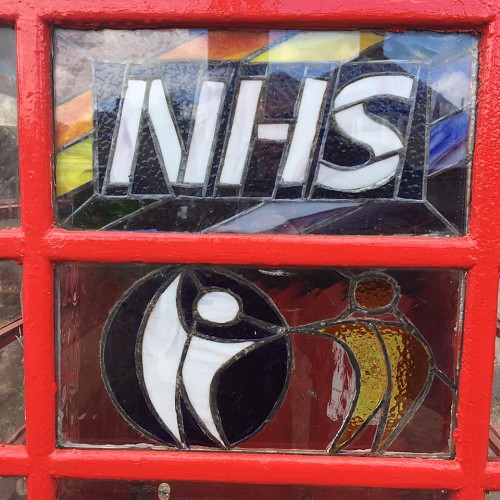 Central to the art sharing is the work of Alan and Kate Richmond, whose stained-glass panels in the village's former phone box and now defibrillator were the initial inspiration for the art sharing.
The art sharing also includes artwork from local schools, Crich Infants and Crich Juniors. The infant school have submitted a giant mixed media collage of a sea turtle made from recycled materials such as bottle tops and leather offcuts.
Crich Tramway has also been involved in the Art Sharing and will host art work made during lockdown by members of their staff team. These pieces will be on show at The Crich Tramway Museum in the Learning Room on both days. On Sunday 11th October they will be hosting their annual community day so local residents will be able to see the artwork alongside free entrance to the museum for the day (proof of address required).
The art sharing is in partnership with ARTstand, a collective of local artists who are holding an exhibition and art sale on the same weekend in an adjacent room at The Glebe Field Centre. The idea is that visitors to the art sharing will be able to move through to the art exhibition and art sale easily in a one way system created to take both events in on one single visit. The Art Sharing has been put together by a fantastic team of volunteers, many of whom will be on hand during the weekend to run the event.
Clare Limb, who has produced the Art Sharing said
'making this event happen has helped me feel I have made a contribution to helping the people where I live get through this crisis. I have met some amazing people through doing it, many of who I didn't know before as I have been commuting out of the village to work for many years'.
Both events have been carefully risk assessed in relation to the Government Guidelines for Covid-19. We kindly request that when you visit you attend in a household group or a group no larger than six people. Wearing of face coverings is mandatory inside The Glebe, unless you are are exempt from doing so.
Both events are free of charge.