Easter Holiday Activities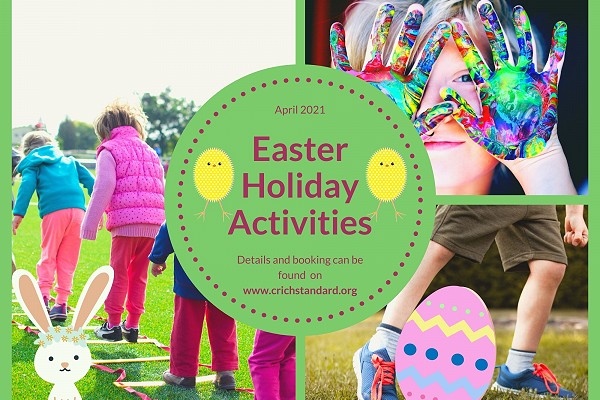 Children's and Young People's Activities at Easter
Crich Medical Practice Patients Participation Group are excited to be able to offer activities for children and young people again during the Easter holidays. As with the other activities organised by the Patients' Participation Group, these days are open to all children who either live or attend a school in the Crich Medical Practice catchment area; this includes the Holloway and South Wingfield surgeries.
Our thanks go to Derbyshire County Council and Crich Parish Council who are supporting these events.
Premier Education
Premier Education will be running their very popular Holiday Clubs for children and young people aged 5 - 13 years old at The Glebe Field Centre in Crich on
Tuesday 6th, Wednesday 7th and Thursday 8th April
and again on
Tuesday 13th, Wednesday 14th and Thursday 15th April 2021
Children will need to bring a packed lunch and clothing suitable for outdoor activities.
The cost will be £5 per child per day. The clubs were very popular last year and places are limited so book now by email at jjennison@premier-education.com
Popalong (under 3s)
Popalong will also be offering their play sessions for children under 3 years at The Wesleyan Chapel on Chapel Street on
Thursday 8th and Thursday 15th April 2021.
To book a place and for mor information contact Lynda on 01773 857921 or email jimlynda.gray@btopenworld.com
Lea Green Outdoor Activities Centre (THIS ACTIVITY IS NOW FULLY BOOKED)
As part of the activities programme we are planning for the Easter holidays, we are delighted to say that Lea Green Outdoor Activities Centre has agreed to run two Adventure Days for us on
Friday 9th April and Friday 16th April 2021.
Lea Green is one the country's leading education and adventurous centres and it is on our doorstep! The days will be led by the Centre's trained instructors and will be full of excitement, challenge and fun for children and young people aged from 6 to 13 years old.
There are places for 24 children on each day. This event is being generously supported by Crich Parish Council and Derbyshire County Council and so we are happy to announce the cost is only £10 per child. The days will start at 9.30 am (arrival from 09.00) and end at 3.30 pm. The children will need to wear clothes suitable for outdoor activities and to bring a packed lunch with them.
As we expect the demand to be high, you will be able to book a place for one day. If you would be like to reserve a place on the second day, please indicate this when you book and we will contact you if spaces are available.
If you are interested in reserving a place or places or would like more information please contact either Corinne Clemson (corinneclemson@hotmail.co.uk or 07792 061489) or Frances James (michaeljamesxiu1@mac.com or 07515 881937)
The deadline for applications is Monday 29th March 2021