Extension to Crich Burial Ground consecrated
On Thursday 6th February, the Bishop of Repton, The Right Reverend Jan McFarlane, led an historic ceremony to consecrate an extension to the burial ground at St. Mary's Church. The petition for the consecration was presented by Councillor Richard Walsh from Crich Parish Council.
Accompanied by the Diocesan Registrar and supported by members of the Church, Crich Parish Council, the public and (most importantly) the children from Crich CofE Infant School, the Bishop led a procession around the boundary of the cemetery extension.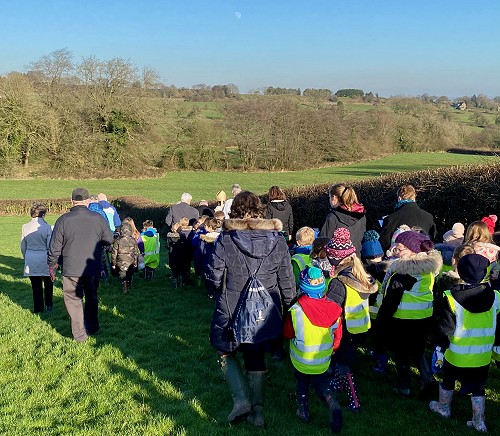 At each corner of the extended area, the Bishop made a sign of the cross during which statements of the consecration were read by the registrar.
During the procession, psalms were read. At the end of the service a silence was observed, during which all present were encouraged to appreciate the peace of our rural environment. Finally prayers were said.
At the end of the ceremony everybody was invited to retire to the church for tea and cake. Very civilised!